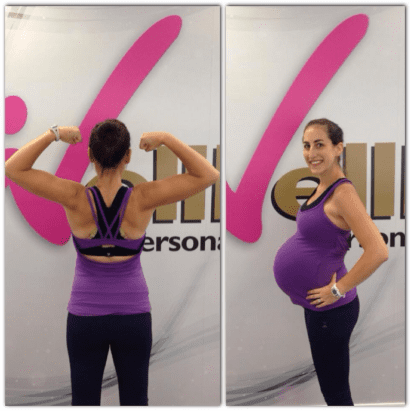 Over the last 11 years of working as an Exercise Physiologist and PT, I've had the pleasure of being the exercise guide for many ladies on their pregnancy journeys. Training during pregnancy is a topic full of hearsay, old wives' tales and generally an overabundance of scary misinformation.
My goal with this article to remove some of the unknowns and provide guidelines around what you should and shouldn't do, and when you should and shouldn't do it.
Prior to starting any exercise program, you should always seek clearance from your GP or OB-GYN. These guidelines apply only to those who have been cleared to perform exercise.
How long can someone train during pregnancy?
Quick answer – for as long as they can manage and aren't too uncomfortable.
I've had multiple clients who have trained right up until the day they have given birth. One client literally had to cancel our session that morning because she was heading in to have her baby. Others find they start to struggle 4 weeks out, or even earlier. This is an entirely personal decision. Only you know exactly how you are feeling.
Can I begin an exercise program after falling pregnant if I wasn't training before?
The advice around this has changed in recent years. Previously the advice was that if you were already exercising before then it is fine to continue, but if you weren't then you shouldn't begin. This advice is now outdated and it is considered majorly beneficial for mothers to exercise during pregnancy, even if they were not performing structured exercise prior to falling pregnant. For these women though, the intensity should stay low-moderate so we don't create too much shock to their system. The body is already undergoing huge changes and we don't need to add extra overt stress.
There are many benefits of pre-natal training for mother and baby which you can read more about in this article.
https://wellfitpersonaltraining.com.au/happy-mother-smarter-baby-why-you-should-train-during-pregnancy/
Risks vs. Benefits
Your main consideration when exercising during pregnancy is to weigh the risks vs. the benefits. Your training should never push you so hard that you experience negative consequences. Our aim during pregnancy is to help you stay healthy, happy and strong, while also best preparing you for labour. There is nothing to gain by training yourself with extremely heavy weights or pushing yourself close to exhaustion. You can still train hard, but you must also be smart about the types of exercise and the intensity of your exercise at the various stages of your pregnancy.
How should I gauge intensity?
A simple and effective way to gauge intensity during your workouts is the Rate of Perceived Exertion (RPE). This is a subjective measure which requires no equipment and is relative to you as an individual, under your current circumstances. It allows for daily variances for your energy levels being low, your back being a little sore, nausea etc.
RPE in a basic sense is how hard out of 10 you feel like you are working at that moment, on that day. During your higher intensity intervals, you'll want to keep your work period RPE to a maximum of 7/10.
1 = sitting down doing nothing
10 = the hardest you can possibly work. Red faced, sweating profusely, unable to speak properly.
This means that you can absolutely challenge yourself with what you'd describe as a "pretty hard to hard" session. Don't ever push to a very hard, or extremely hard level though. You can be a bit breathless but should still be able to speak.
Keep in mind, the RPE is a completely relative scale and should be applied to how you are feeling at that very moment, not what you used to feel like before being pregnant. This is extremely important. Do not compare to what you used to be able to do, it is how hard it is for you NOW!!
It is considered normal during pregnancy to feel more breathless, so your RPE needs to be scaled down to allow for your diminishing exercising capabilities.
Body Temperature and Hydration
You'll want to always maintain awareness of your body temperature during higher intensity exercise. During the first trimester especially, there is legitimate concern that high body temperatures could cause birth defects.
It's recommended to keep your body temperature under 38 degrees Celsius.
Show extra caution when exercising in extremely hot or humid climates. If you live in an area which fits this description and happen to be pregnant during Summer, then stick to indoor activities on the very hot days.
You can certainly work up a sweat during exercise, but I wouldn't recommend working to the point where you're pouring sweat, especially if you're in an air-conditioned gym or a cooler climate. Sweat isn't always the clearest indicator of how hard you're working as we all know people who pour sweat during a warm up. It is worth taking note of though as the goal should never be to push yourself to your limits while pregnant. Again, we refer back to the risk vs reward discussion.
First Trimester training
In your first trimester of pregnancy, you might workout less often or less intensely based on how you are feeling. Fatigue and nausea are the most common side effects of pregnancy during this time.
Higher intensity interval training will not be the best choice of exercise to include in your first trimester.
A variety of reasons contribute to this including:
the concern of overheating

general feelings of fatigue

potential for sickness/nausea

reduced caloric intake is common due to food aversions and nausea

We stick to more traditional strength training type program during the first trimester, especially when a woman isn't quite feeling herself, or is just starting exercising consistently.
This will also help reduce the apprehension a woman may have about exercising during this first trimester.
Core training examples in trimester 1 – side planks, front planks 20-30seconds, ball roll outs, jack-knife, dead bugs with elastic.
Note: You are not too limited in core training during this time and it is a perfect time to lay a good platform of core strength for latter stages of pregnancy, especially while you are avoiding higher intensity conditioning sessions.
Second Trimester
In your second trimester, it's likely that you'll be able to maintain a more consistent exercise schedule and that your workouts will feel more like they did pre-pregnancy (except for that tummy constantly growing).
The second trimester can be a good time to re-introduce more metabolic conditioning. Many women will start to feel more like themselves during this time. General fatigue should be lessening, and you should find that you have more energy in your workouts.
If you were not exercising consistently in the first trimester, we recommend sticking with a strength training focus, with only very light introduction of any forms of metabolic conditioning. Again, we revisit the risk versus reward factor. You don't want to provide any major shock to your system during pregnancy, which is what any significant change in exercise programming can create. Stick with sensible strength training and you will be fine.
Core training examples in trimester 2 –paloff press, 1 arm overhead farmers carry or suitcase carry, single leg supine air bike (lower only as far as you can stop your lower back arching off the floor), slow mountain climbers (not the running variation), kneeling overhead paloff press.
Third Trimester
Higher intensity intervals can be continued well into the 3rd trimester.
Keep in mind how your breathing and your body feels, though. You will start to feel more out of breath doing less exercise, so adjust the intensity appropriately.
Remember, we are using the RPE, and it is how you're feeling now, not how you were feeling last month.
Take note how you feel in your core muscles and pelvic floor with your growing belly. If you have pelvic pain or pressure, or back pain, adjust the exercises you're using or simply slow down a bit.
You'll likely want to back off or reduce the time you spend doing interval work as you get further into the last 6 weeks of pregnancy. Fatigue will ramp back up during this time. You'll need more recovery time between workouts during your 3rd trimester.
Core training examples in trimester 3 – dead bugs, offset farmers carry, paloff press both in front and overhead, straight arm pulldown (double and single leg).
Plyometrics and High Impact Exercise??
High impact and plyometric type exercises should be avoided in pregnancy, especially as you progress to the latter stages. Some of you will dislike this, but that does also includes running.
Here is why…….
The increased size and weight of the uterus, placenta, foetus and normal weight gain of pregnancy place a great amount of strain on the pelvic organs as it is. These factors do not need to be compounded by the additional downward stress placed on them by running, jumping, skipping, burpees, jump squats etc.
There are also hormonal considerations. Throughout pregnancy the body releases increasing levels of relaxin. Relaxin works to make the soft tissues of the body more laxed, to assist with labour and delivery. Laxed soft tissues will reduce he stability of your joints during movements. Keep your feet grounded during your training and work on strength, rather than any exercises which send too much downward force through your pelvis.
Plus – and this is a big plus, they are completely unnecessary for you to stay fit and healthy during pregnancy. If a trainer is prescribing these to you during your pregnancy then that is an indicator they lack experience and knowledge in pre-natal training.
Be sensible and let your body be the guide
The best advice is to be mindful of how your body feels during and after exercise sessions.
If you are feeling great, only experiencing normal post-workout muscle soreness, and are more energized after workouts than before – you are going great! Keep it up, and just keep an eye out for any signs that it's time to drop it back a notch.
However, if you are feeling tired for hours after your workouts, or if you are getting pelvic and lower back pain during and after workouts, it's time to alter things.
It may be that you need to change the exercises that you are performing in your sessions, or to drop back the intensity of your workouts.
During pregnancy you should always feel better post-workout, never worse.
 Keep Strength Training, reduce weights as needed.
Strength training should stay the focal point of your training throughout your pregnancy.
As your pregnancy progresses and the downward pressure increases through your pelvis, you should gradually decrease the amount of weight you are lifting. This decrease in intensity by reducing the load, can be picked up by adding a few extra reps per set if you feel able.
If you've been working between 8-10 reps mostly, you could bump your reps up to 10,15 or 20 to still feel challenged with a more manageable weight.
Reduce HIIT Training
HIIT training should be reduced significantly during pregnancy. 
You can modify your HIIT sessions to make them less intense. Reduce the time or number of circuits, do your intervals fewer times per week, or just cut it out completely. Remember the risk/reward point.
If you absolutely love metabolic conditioning and still feel good during and after, you can keep doing it, but your body awareness needs to be heightened at these times.
You need to take notice of how your body is responding and recovering from these sessions. Don't ignore your body telling you to slow down.
Reduce duration, frequency or intensity of long Walks
Very often long walks will start to irritate your pelvis, leaving your lower back aching immediately after, and/or the next day. Quite often we find that the cause of undue lower back pain during pregnancy can be traced back to long walks, especially ones that involve large hills.
If you usually take a daily walk lasting 30-45 minutes or longer, and are starting to feel discomfort throughout or after, it is time to cut back one or multiple of the following; the distance walked, the number of walks per week, the number or intensity of hills in your walk.
A lot of you will want to resist dropping the walks from your routine as you really enjoy them and find it great for your headspace as much as anything, so to counter the need to stop altogether, we need to reduce the intensity.
Walking in water is a good replacement as the downward forces on the pelvis are reduced by the buoyancy of the water.
In summary
The overall message to remember about training through your pregnancy is to always weigh up the risk vs reward for what you are doing. If you are unsure about anything, then seek the assistance of a professional who can help you follow correct protocols throughout the different stages of your pregnancy.
You should also always seek clearance from your GP and/or Obstetrician before starting any new exercise program while pregnant. This is important for all women, but especially important for those who have had previous contraindications or difficulties during pregnancy.
You can absolutely train with weights and with intensity for the majority, if not all your pregnancy. However, don't be stubborn and continue to train in a way that could cause yourself or your baby harm just because you don't want to drop back the intensity.
The goal of training during pregnancy is to make you feel better, and to make sure your baby is delivered healthy, to a healthy, happy mum.