WellFit NBN News Story : Our Amazing Client's Fight Back After Cancer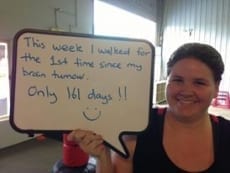 Below is a link to the NBN news feature story which ran on TV earlier tonight, titled "Hunter Woman Fights Back After Cancer"
VIDEO: WellFit Personal Training Client's NBN News Story
Some of you may be aware of Bonniebelle's incredible story, having fought her way back from cancer.
My superstar client lost all use of left side of body 6 months ago, but never lost the amazing smile off her face. She is now back on 2 legs finally!!!
It's always a great feeling to see people be rewarded for their hard work & dedication. 
We absolutely love seeing our clients achieve their goals and this success story proves that no matter what your challenge is, you can overcome it. Whether your goal is to lose weight, get fitter & stronger, feel healthier or just to have more energy, YOU CAN DO IT with the right mindset and dedication.
It is success stories like these that really make our job as personal fitness trainers worthwhile. 
Congratulations on your success Bonniebelle! 😀
If you find Bonnie's story inspiring, feel free to share it with your friends & family on Facebook by clicking the Like button at the top of this blog post.
You can keep updated on her progress from time to time over on our Facebook page: http://www.facebook.com/WellfitPersonalTraining